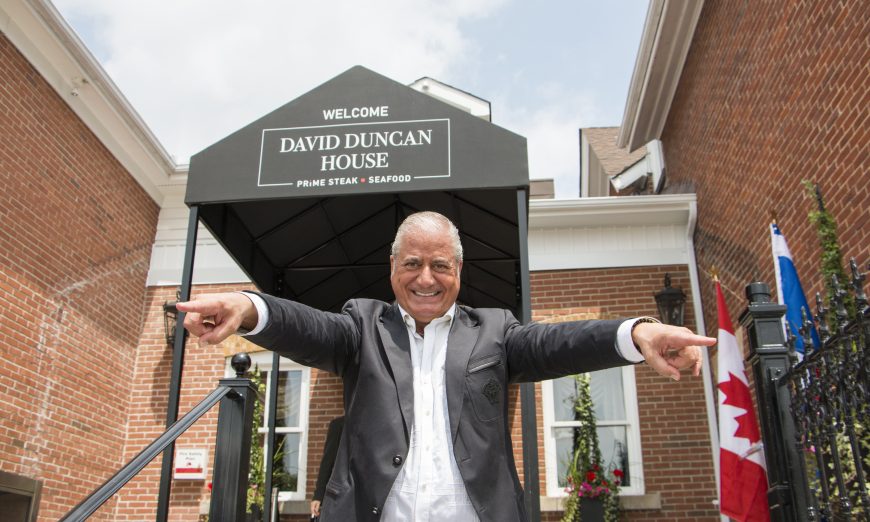 In November of 2017, byPeterandPauls.com took ownership of David Duncan House. Built in 1865, David Duncan House is one of Toronto's most notable landmarks. Since November, we have brought together the most creative minds in all facets of the business to evolve the restaurant's design and menu while taking careful consideration of the historical integrity of the property.  Nestled on 4.25 acres of land, the iconic David Duncan House is home to some of the most breath-taking views in Toronto.
On Wednesday, we celebrated the re-opening of David Duncan House's doors. Councillor Thompson, Chair of Economic Development and Culture, shared several remarks from the City of Toronto and presented CEO Peter Eliopolous and partners of David Duncan House with the official scrolls. The event highlighted menu items such as East and West coast oysters, signature grilled lamb chops and carved strip loin amongst other flavourful stations.  Guest's later indulged in some of our finest desserts, Banana Foster and Cherry Jubilee. A celebration of food, art and design, David Duncan House is a modern addition to our cities finest dining. We have brought together all forms of media to discover and enjoy the iconic space with us on such a special day! Our Executive Chef, Richard Andino had selected a number of signature dishes that we knew our guests would go head over heels for. We can't wait for you to come in and, experience David Duncan House yourself!
Guests enjoyed and toured the new private spaces and features such as:
Outdoor patio
Raw bar
Temperature controlled wine fridge
5 private spaces (Victoria, Prince George, Alexander, Mackenzie, Parisian)
We are now officially open and invite you to come in and enjoy a traditional steakhouse cuisine, with a pinch of byPeterandPauls.com style. The perfect destination for all occasions whether it is social or corporate! Call us or come in today and experience all that David Duncan House has to offer. What are you waiting for? #meetusattheduncan.
Here's a sneak peek inside our exclusive celebration!



Thank you to all of our special guests, members of the community and vendors that made this event a success.