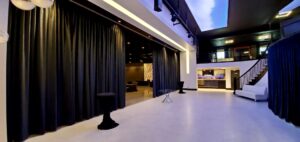 Bellagio Boutique Event Venue by Peter and Paul's Hospitality Group is one of the most established event venues in Vaughan, and it's also now one of the newest as the entire space has been renovated.  This is not the Bellagio you remember!
Moving away from the classic style it's been celebrated for since it's opening, Bellagio has been stripped down to a sleek, sophisticated and elegant space. The modern renovation boasts sate of the art digital features including lighting that is a show in itself, custom-made led ceilings depicting a skyscape, modern white and black design with highlighted areas offering custom coloured lights- this is not your average banquet hall.
In their efforts to help brides and grooms during a challenging time for everyone trying to get married, Bellagio is offering incentives for couples that want a spectacular space and experience but aren't able to have the guest count they expected in the past.
Here are some of the incentives Bellagio is offering for a limited time:
2021 pricing for all new bookings until 2023
Reduced booking minimums so smaller weddings are possible and will still have exclusive access to the grand and newly designed main hall
Reduced deposits to confirm the date
Complimentary day-of wedding co-ordinator
The newly renovated space is something that can only truly be appreciated in person.  It is exclusive to each booking, it is modern, and it will wow you and your guest! Bellagio Boutique Event Venue by Peter and Paul's Hospitality Group is standing with couples that are trying to make their dream wedding come true. Get in touch with the venue directly to learn more!