Tis' the season… to say "I do!"
Perhaps you are in the midst of planning your winter wonderland dream wedding, but you're not too sure about where to begin or what you can do to add that extra 5-star touch to your big day.  Don't fret because we have the Top 5 Trends that will make your Winter Wedding spectacular!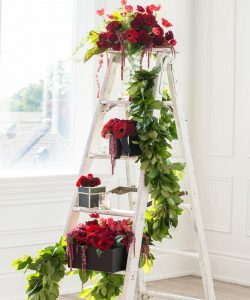 Greenery
 When we think of the holidays, we often think about lush, green garlands that drape our staircases and add a refreshing pine scent to the atmosphere. Wouldn't that be a wonderful addition? If you're hosting your wedding in December, a sophisticated and traditional garland will dress up any head table to bring a very holiday-esque theme to life! The design experts at Pure Event Design can help achieve this look for you. Inquire today!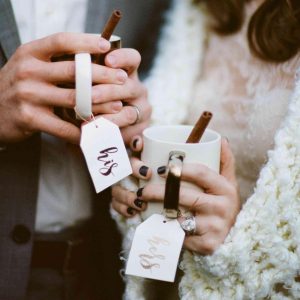 Hot Chocolate stations
Nothing says a cold winter's night quite like warming up to a cup of delicious hot cocoa! If you're holding your wedding in the colder months, perhaps consider adding a late-night station, such as a build your own hot chocolate station, filled with yummy toppings for a personalized (and fun) touch! When you book your event with byPeterandPauls.com, you can customize your entire wedding menu from top to bottom, making any request possible!
Captivating Scenery Walls
When it comes to any event, lighting plays a huge role in setting the tone! When it comes to setting the atmosphere for a themed wedding, bringing the outdoors inside your venue is only one request away. Our friends at S4 Entertainment & Audio/ Visual are experts in creating stunning lighting visuals that can transform ordinary walls into a winter wonderland!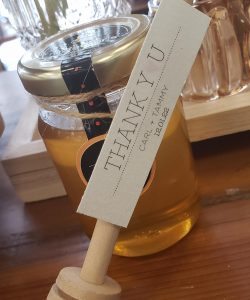 Sweet Takeaways
Thank your guests in the sweetest way with a takeaway gift they'll love and enjoy. Have a look at tiny honey jars, courtesy of our friends at Peter and Paul's Gifts. They will help you find the perfect solution that suits your event.
Jewel Tone Colour Palette
Don't forget to stay in the know with the season's hottest colours even in the coolest of months! We're going to be seeing a lot of amber tones, dark greens, and burgundy throughout the winter. If you need help incorporating any of these colours into your big day, Pure Event Design can also help with that! Our design experts will work with you to ensure your event looks stunning and chic. 
Hopefully these tips help you plan your dream Winter wedding the 5-Star way!