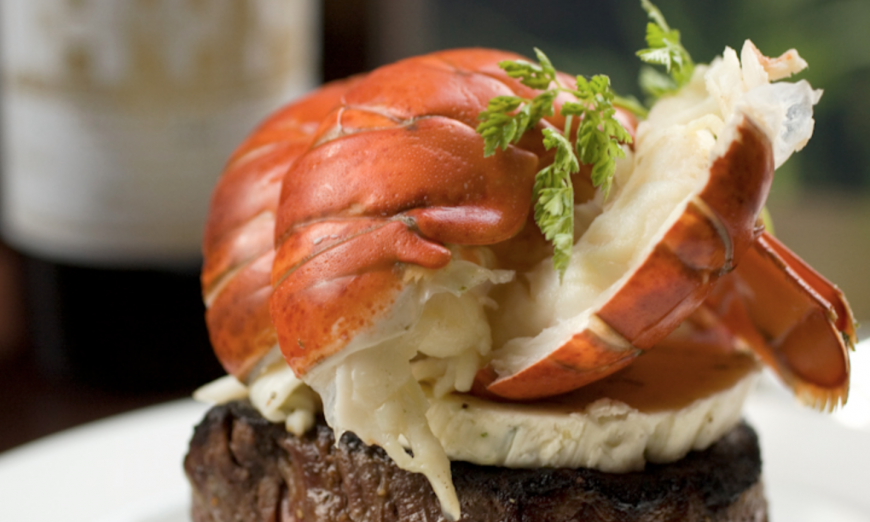 If there is any time to get fancy for your loved one (or best friend) it's for valentines day! Enjoy a juicy and flavourful steak, paired with a buttery lobster tail for a 5-star meal!
One of the best parts about serving a surf and turf for valentines day is the ability to pair it with your choice of a red or white wine.
Here are our suggestions, Santa Margherita Pinot Grigio or J. Lohr Seven Oaks Cabernet Sauvignon.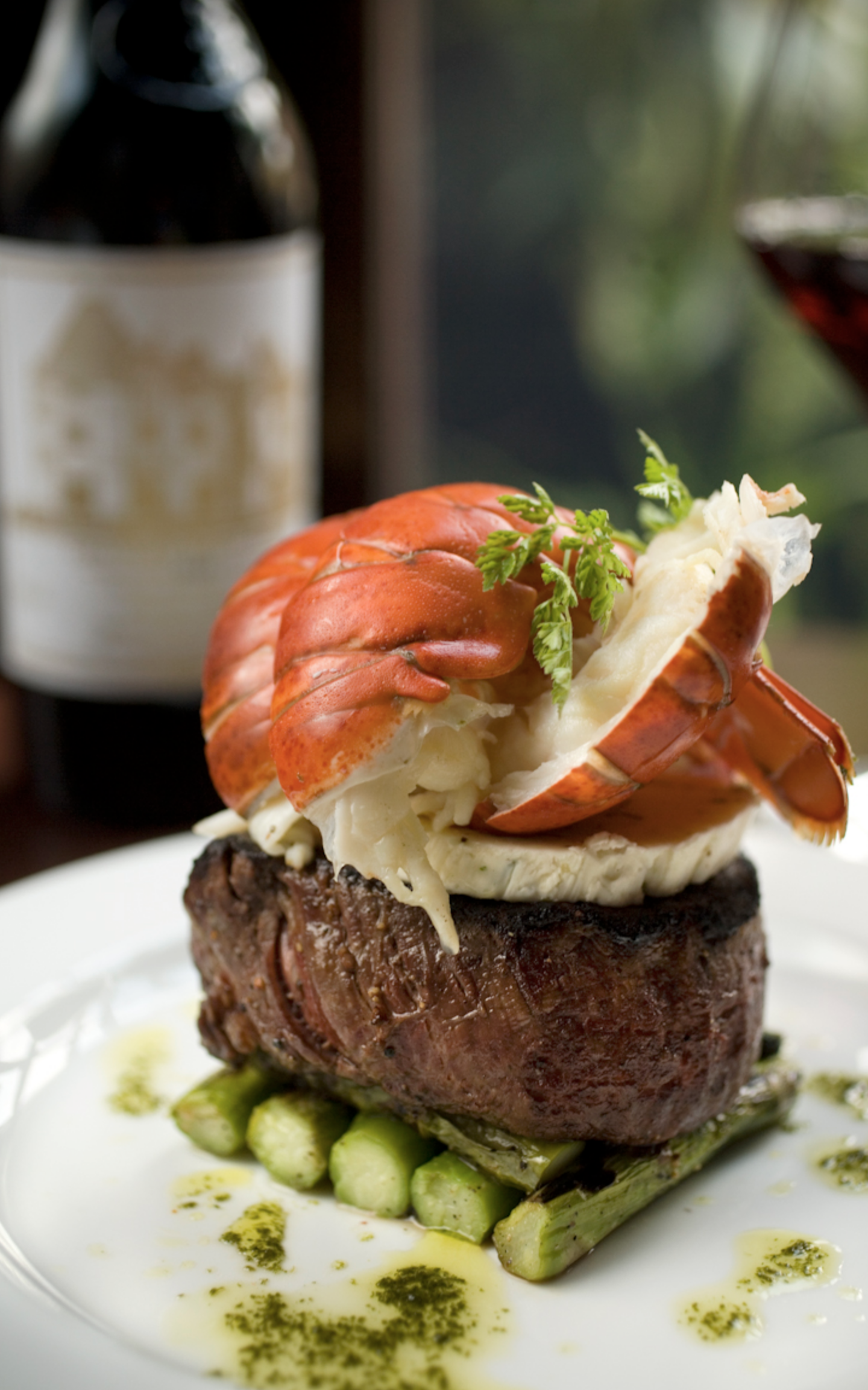 PREP TIME:  15 MINS
COOK TIME:  15 MINS
TOTAL TIME:  30 MINS
SERVES: 2
1 12 OUNCE NEW YORK STRIP STEAK, CUT IN HALF
2 LOBSTER TAILS (IN THE SHELL)
3 CLOVES GARLIC, 2 WHOLE, 1 MINCED
4 TABLESPOONS BUTTER, DIVIDED
SPRIG OF FRESH ROSEMARY
2 TABLESPOONS FRESH PARSLEY, MINCED
1 TABLESPOON GRATED PARMESAN CHEESE
Preheat the oven to 425° F.
Remove the steak from the fridge 30 minutes before cooking, this is to bring the steak to room temperature and ensure your cooking times are more accurate.
Using a sharp knife, pierce the top side of the lobster shell down the center of the tail. Cut into halves and set aside (keeping lobster in the shell).
Combine 2 tablespoons of melted butter, Parmesan cheese, garlic, olive oil, parsley, salt and pepper in a small bowl. Stir until combined. Liberally baste the lobster tails and place on a baking sheet flesh side up.
Cut the strip steak in half widthwise, season both sides generously with salt and pepper, and set aside.
Add 2 tablespoons of butter to an oven safe cast iron skillet and turn up high, allow the skillet to become very hot first. At this time, add the lobster tails to the oven and bake for 15 minutes.
Place the strip steaks face down and sear undisturbed for 2 minutes. Flip the steaks and sear for an additional 2 minutes. This will give your steak a nice seared edge.
Add a clove of garlic and a sprig of fresh rosemary and immediately transfer your skillet directly to the oven. [WARNING] skillet may be hot, handle with oven mitts. For rare, bake for 4-5 minutes. Medium rare, 5-6 minutes. Medium, 6-7 minutes. Remember, depending on the size of the steak, the more or less time it will take. This recipe is ideal for a 12-14 ounce strip steak.
Remove steaks from the oven. Using a spoon, drizzle the pan drippings from the skillet over each steak. Let rest for 5 minutes before serving. After 5 minutes, your lobster tail should be ready. Serve each steak portion with 2 halves of lobster tails. Garnish each steak with a clove of roasted garlic and a portion of rosemary if desired.
 Tips for cooking the perfect steak:
Rare: 130°F to 135°F
Medium Rare: 140°F to 145°F
Medium: 155°F to 160°F
Well Done: 165°F to 170°F