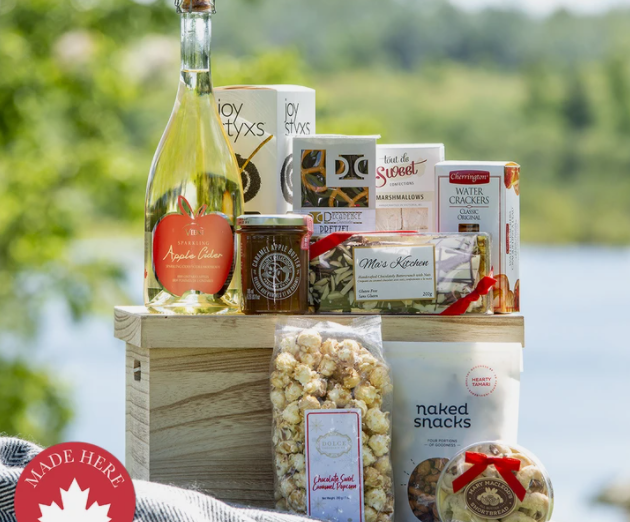 There are so many reasons to support local artisans, especially during these trying times. Below we're listing out a few of the many reasons to #ShopLocal and #SuportLocalBusinesses with Canadian-made goodies this holiday season!
Service with a smile!

There is no better experience than going to a local shop and hearing the excitement in the vendors' voice as they help you pick out an all-Canadian made item. Business owners tend to go that extra mile for their customers because they are so excited you're shopping locally. This is someone who is your friend or your neighbour from your community, city, or country. There is no better feeling for the local artisan than having their patrons shop locally from them! 
(Gourmet Sampler basket, Peter & Pauls Gifts)

When you enter our Peter and Paul's Gifts showroom, we guarantee service with a smile! Meet with our consultants to handpick your gift basket, see the showroom, and discuss any bomboniere you may need for future events!

One-of-a-kind goodies!

Everything you buy from a local artisan is something that cannot be bought from a mass-producer… and that's the best part! The personalization, the uniqueness, the one-of-a-kind gifting opportunities! Shopping locally means shopping creatively. Just like our full list of handmade and unique (all Canadian-made) gift baskets!

Enhances local economy!

Boost the economy when you shop Canadian-made. What's better than that during these unprecedented times?! Our economy needs you! Support your neighbours and friends and shop their uniquely crafted handmade gifts and goodies. When you purchase something local or Canadian-made, it gets put back into the community.

Better for the environment!

Lower your carbon footprint by shopping locally! Local artisans often use local materials to produce their own products, plus, they are not mass-produced products.

DID YOU KNOW: At Peter and Paul's Gifts, when you order our gift baskets with any of our jars of honey in it, you are ordering FRESH and ORGANIC honey made from our founder and CEO, Peter Eliopoulos' bee farm?! A great way to not only shop local and support local but promote sustainability too!

Encourages your community to buy local!

During these pressing times, it is great to support local and grow our community. When we support local businesses, entrepreneurs, and buy local goodies, we are encouraging small businesses to thrive.
With everything going on, we want to ensure that we keep our local and Canadian artisans afloat. We have a full list of Canadian-made baskets that make the PERFECT gifts for your loved ones, colleagues, or friends this holiday season! To view our full list of gift baskets, visit peterandpaulsgifts.com!